The freshness of the ocean with certified sustainability for peace of mind
When choosing Pacific Reef Tigers you can be certain your purchase has not impacted wild supply, the oceans eco system, nor is there any by-catch from harvesting processes (by-catch is any untargeted marine species (some threatened) unintentionally caught during wild caught fishing practises).
Pacific Reef Tiger Prawns are prized for their sustainability credentials, large size, premium quality, and are supplied green (raw), cooked, fresh and frozen to partners Australia wide. During harvest (December to May) they can be supplied fresh cooked, never frozen, direct from harvest.
Buying Pacific Reef Tigers
We supply direct to wholesalers, markets, retail and the food service industry.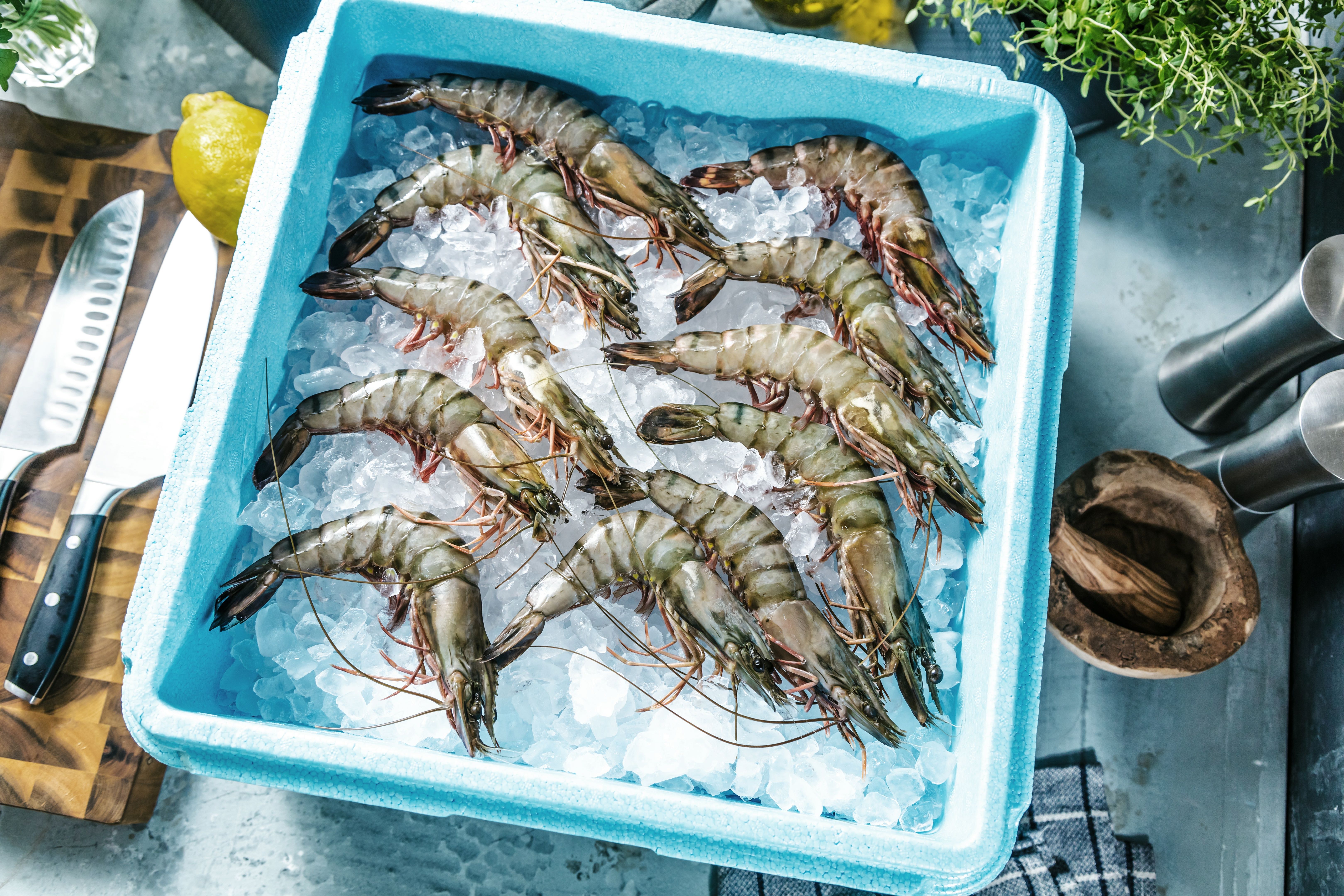 Grade
Size
Prawns per Kg
Weight
10/15
X Large
20-30
30-45g
21/30
Medium
40-60
15-22g
How to purchase Pacific Reef Tigers
For information on how to purchase Pacific Reef Tigers fill in your details and our team will be in touch.
What to look for when purchasing
Pacific Reef Tigers are succulent with a pleasant fresh sea smell and are a majestic glossy red colour (when cooked). When stored and cared for properly they will always look and feel firm and clean, not slimy or gritty. Australian prawns are often more expensive to purchase compared to imported products, largely due to strict Australian certification standards that ensure farmed prawns are produced sustainably and wild caught prawns are protected from over fishing.
Always check the labelling at your supermarket or fish supplier to ensure you are buying a sustainable Australian product.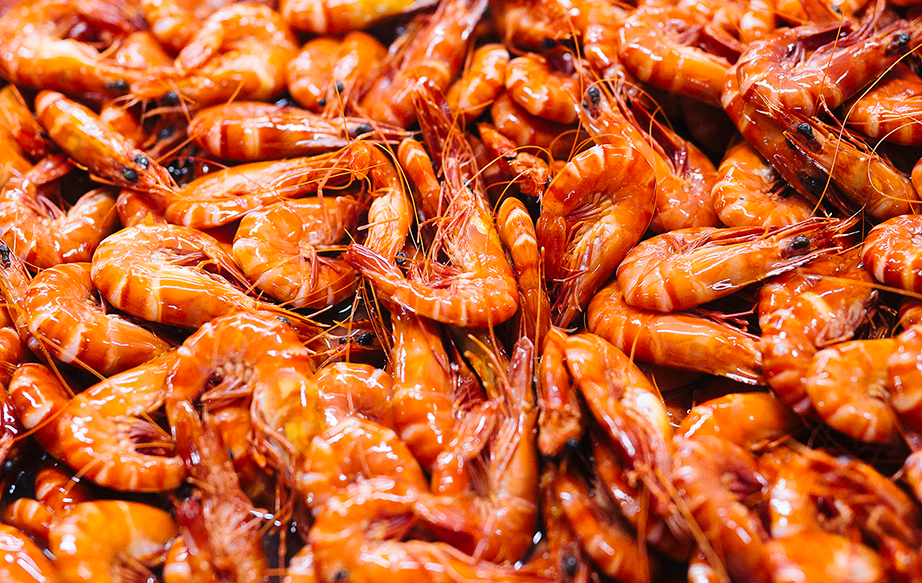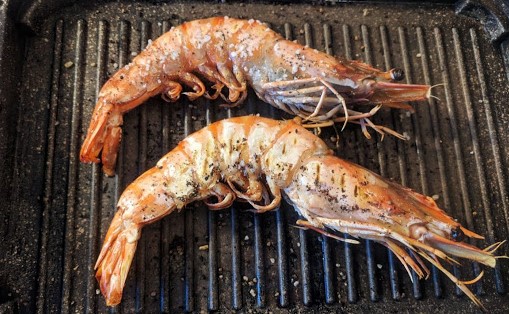 Storage, cooking and consumption
When purchasing fresh prawns leave them in their shells until just prior to using and store in an airtight container in the refrigerator. The best time to eat your prawns is within 3 days of purchase or freeze for up to 3 months at below -18ºC. Once thawed, frozen Prawns should not be refrozen.
Prawns are incredibly versatile and can be cooked in many ways; steam, poach, deep-fry, pan-fry, stir-fry, grill or barbecue. Prawns require very little cooking; undercook them rather than overcooking as they will continue to cook in the residual heat. Prawns can be cooked and enjoyed with a variety of flavours including butter, chilli, garlic, ginger, herbs, lemon, lime, mayonnaise, olive oil, soy sauce or tomato based sauces. The firm flesh holds together well in soups and curries, or threaded on skewers for kebabs.
Prawns are a superior source of protein per gram compared to other lean meats and can be enjoyed from December to May fresh, or all year round when purchased frozen. 
Supply you can rely on
Aquaculture provides a sustainable alternative to wild-caught seafood and since 2007 has supplied more than 50% of world-wide seafood products. Aquaculture has been the fastest growing global food production sector since the 1950s, almost doubling production each decade. According to the CSIRO, global growth of aquaculture (7%pa) far exceeds that of land-based food production (2%pa).
Once operations at Guthalungra are established, Pacific Reef Fisheries will have a total production capacity of ~3000tpa of Premium Black Tiger Prawns.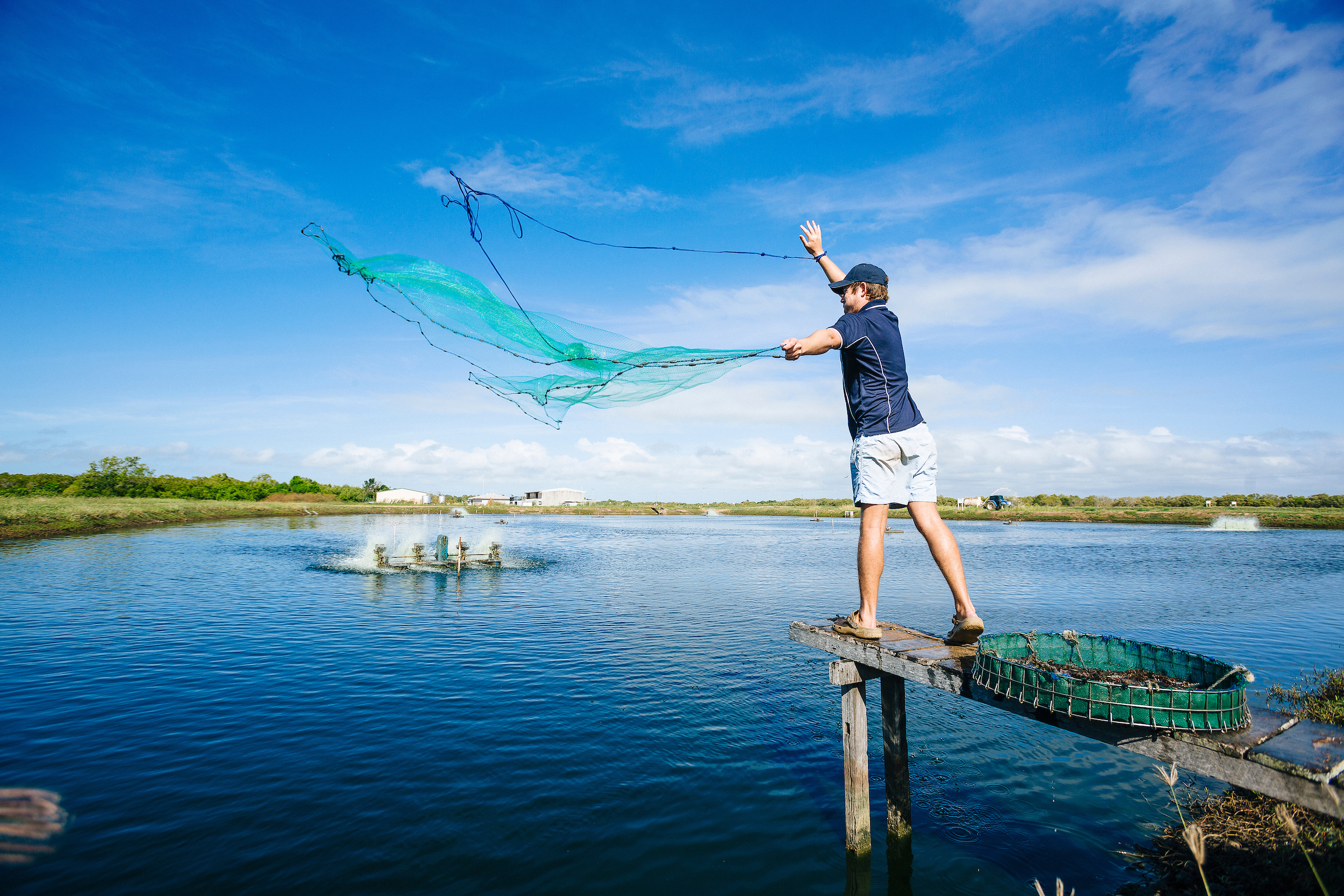 Nutrition
According to research conducted by nutritionist Dr. Rosemary Stanton PhD APD, prawns are: an excellent source of protein, low in saturated fats, a great source of iron, zinc, vitamin E and omega 3 fatty acids.
Prawns are a superior source of protein and omega 3 compared to other lean meats
Product
Energy (kj)
Protein (g)
Fat (g)
Omega 3s (mg)
Lean Beef
527
22.7
3.8
22
Lean Lamb
596
22.0
6.0
18
Skinless Chicken
564
19.3
6.4
19
Chargrilled tiger prawns with miso ginger butter
Classic prawns on the barbie, just a little fancier!
ULTIMATE beer battered tiger prawns
The crispiest batter you'll ever make.
Tiger prawns with bloody mary mayonnaise
Delight your guests with this spicy upgrade to the standard cocktail sauce 
Tiger prawn, mango and avocado salad
When mangos are in season, this zesty little salad will become a weeknight staple
Other Tiger Prawn recipes to L.O.V.E